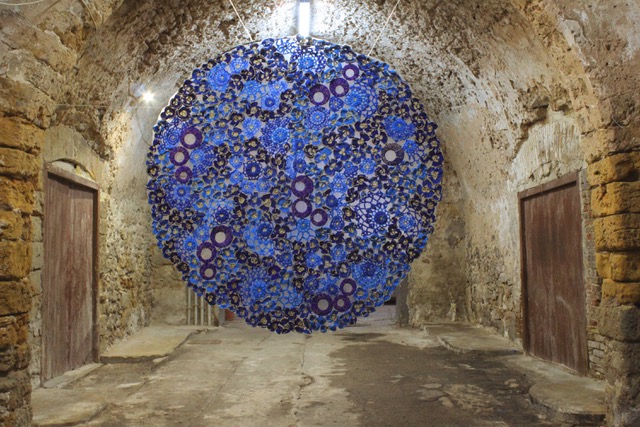 Up to the stars! Exhibition of Grazia Inserillo
"Up to the Stars. At Quam in Scicli,- via F.Mormino Penna- Grazia Inserillo's artistic journey among astronomical geometries.
Saturday, May 13 marks the opening of Grazia Inserillo 's long-awaited solo exhibition at the Quam Gallery in Scicli. The project lands in the gallery after two years of work, is presented in the catalog by Giusi Diana and has been followed from the beginning by Antonio Sarnari, who presents this artist as the new star of his gallery. 'Star' is no coincidence, since the theme most frequently inspired the young artist from Palermo, who lives and works in the Veneto region of Italy, is constellations and astronomical geometries. On the other hand, it is as unusual as it is ingenious to combine these 'celestial' themes with the crochet technique, for example, with which Grazia Inserillo constructs spatial perspectives.
Moreover, "the practice of sharing among women becomes the philosophical and meditative key to her sidereal landscapes," writes Giusi Diana in the catalog, referring to the fact that the artist often collects parts of embroideries and stories of ladies from the places where she lives, with which she reconstructs a new sky and with it a new history.
On display are wool and cotton tapestries up to more than two meters in diameter, and again a series, of admirable sensitivity, with thread on paper from notebook pages, in which the landscape is broken down into lines and recomposed into fabric.
Also on display is a large work of nearly six feet in which papers have been worked with stitching, making small paper craters blossom, which united in a harmonious pattern draw the outline of mountains and the skies above them.
Grazia Inserillo is a woman of Sicilian art, who like few imposes herself for delicacy, who like few makes her most intimate work a shared and choral moment, an artist who well represents the most good and lively exteriors of this island and of the entire South, the brilliant and I would say decidedly contemporary one.
An opening of the exhibition is scheduled for Saturday 13 at 6:30 p.m., and it will be possible to meet the author and be told the stories of her works.
Information
The exhibition has free admission and will remain open until June 13 with hours 10:30 a.m.-1 p.m. and 5 p.m.-8:30 p.m. Tuesday through Saturday, for info 0932 931154 or info@quamarte.com.
Grace Inserillo. Up to the stars
Quam Scicli Gallery May 13 / June 13, 2023
OPENING SATURDAY, MAY 13, 6:30 P.M.
CRITICAL TEXT Giusi Diana
ORGANIZATION Antonio Sarnari
MediaLive PRESS OFFICE
ORGANIZATIONAL SECRETARIAT Martina Alecci
EDITORIAL CARE Alessandra Roccasalva and Antonio Sarnari
GRAPHIC PROJECT Image Workshop
PHOTO WORKS Franco Noto
AUTHOR PHOTOSAndrea Sartori and Primo Vanadia
info 0932 931154 info@quamarte.com www.quamarte.com